St. Patrick's Day Bar Crawl at Game On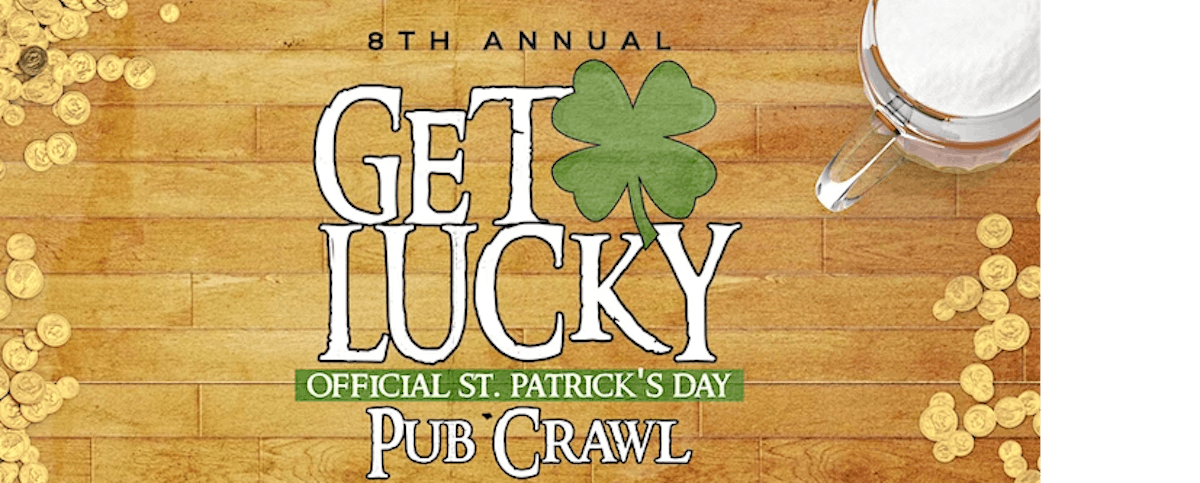 Proudly presented by Proper No. Twelve Irish Whiskey, the Get Lucky Pub Crawl brings Boston's original pub crawl to life. You're going to have a blast at Boston's best bars, clubs, and pubs. Thousands of crawlers are already registered. You can check in at Game On until 2pm and crawl until 8pm! Be on the lookout for some holiday Proper No. Twelve drink specials will be available at select venues, and don't forget to stop by Hurricane's from 12-6pm to celebrate Proper No. Twelve party and grab a sample of their newly released Irish Apple Whiskey!
8th Annual Get Lucky Bar Crawl
This is Boston's only official Saint Patrick's Day Pub Crawl and all participating venues are exclusive. You will not be charged a cover charge or have to wait in a long line if you wear the wristband. A variety of live entertainment (bands, DJs, etc.) will be provided at participating bars. Venues will be open most of the day between 11am and 6pm. Crawlers will have access to exclusive after parties that remain open until 8pm or later.
Boston's official bar crawl, the Get Lucky Crawl, is the original and most popular pub crawl in the city. During Saint Patrick's Weekend, we will be able to access venues such as Big Night Live, The Grand, The Harp, Ned Devines, Lansdowne Pub, Game On, and more. It is common for bar crawl lists to not be released until the day before other events, so do not fall victim to fake tickets!
Get Lucky With Our Party Trolleys
You can expect our Party Trolleys to be available soon. Throughout the day, we'll transport attendees to different crawl locations! Each route will be served by 2-3 buses on repeat between 2pm and 6pm.
Route #1 of the Party Trolley: West End - Faneuil Hall - Seaport
It stops at The Harp, Howl at the Moon, Scorpion Bar, and then loops back to The Harp.
Route #2 of the Party Trolley: Fenway, Back Bay, Theater District, Seaport
This route stops at Loretta's Last Call, Rochambeau, Nash Bar, Lolita, Rock Bottom, and loops back to Loretta's Last Call.
Contact Game On for More Information
Contact Game On if you'd like to celebrate St. Patrick's Day at the best sports bar in Boston. You can get the ultimate bar crawl experience when we help you buy tickets, so please feel free to contact us if you have any questions. Fill out the contact form on our website or call (617) 351-7001 for more information.