Attend Our Mardi Gras Bar Crawl!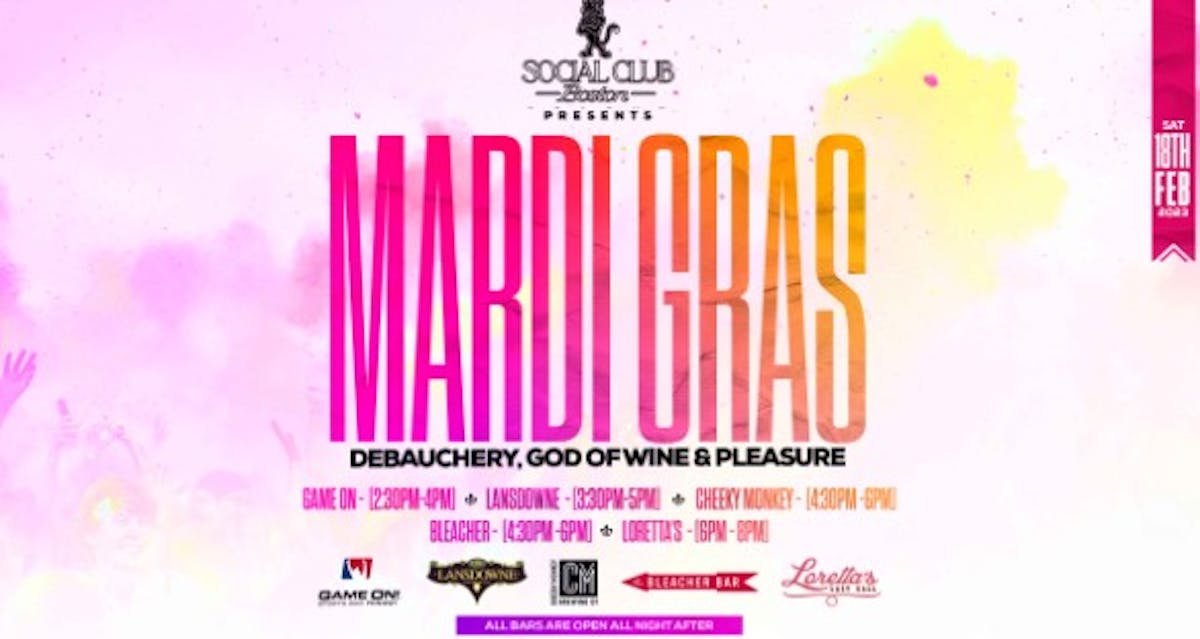 Join us for the Debauchery, God of Wine and Pleasure Mardi Gras Bar Crawl on Saturday February 18th from 2-8pm. Want more information about this event? Please continue reading!
The History of Mardi Gras
Like Saturnalia and Lupercalia, Mardi Gras traditionally celebrates spring and fertility. Due to the fact that "Mardi" is the French word for Tuesday, and "Gras" is the French word for fat, the day before Ash Wednesday has been called Fat Tuesday. This is typically the day held as a celebration for the holiday.
Expectations for Our Bar Crawl
Come celebrate Mardi Gras with hundreds of crawlers at Fenway's best bars. All participating bars are exclusively available to our Mardi Gras bar crawl, the only one of its kind in Boston. Live DJs and bands will be performing at participating bars. You won't want to miss this event!
Further Information About This Event
The following bars are participating in this crawl, with designated check in times corresponding to each location:
Game On! (2pm-4pm)
Lansdowne Pub (3:30pm-5pm)
Bleacher Bar (3:30pm-5pm)
Loretta's Last Call (5:30pm - 7:30pm)
Cheeky Monkey (5:30pm - 7:30pm)
The ticket will cost $10, and you will have exclusive access to each of these locations throughout the crawl!
Contact Game On For Additional Details
Please contact Game On if you have questions about this event or would like to learn more about future events at our establishment. If you would like any information, our team would be happy to assist you! You can reach us by calling (617) 351-7001 or by completing our online contact form. We look forward to seeing you at this Mardi Gras celebration!