Fenway's Best Country Fest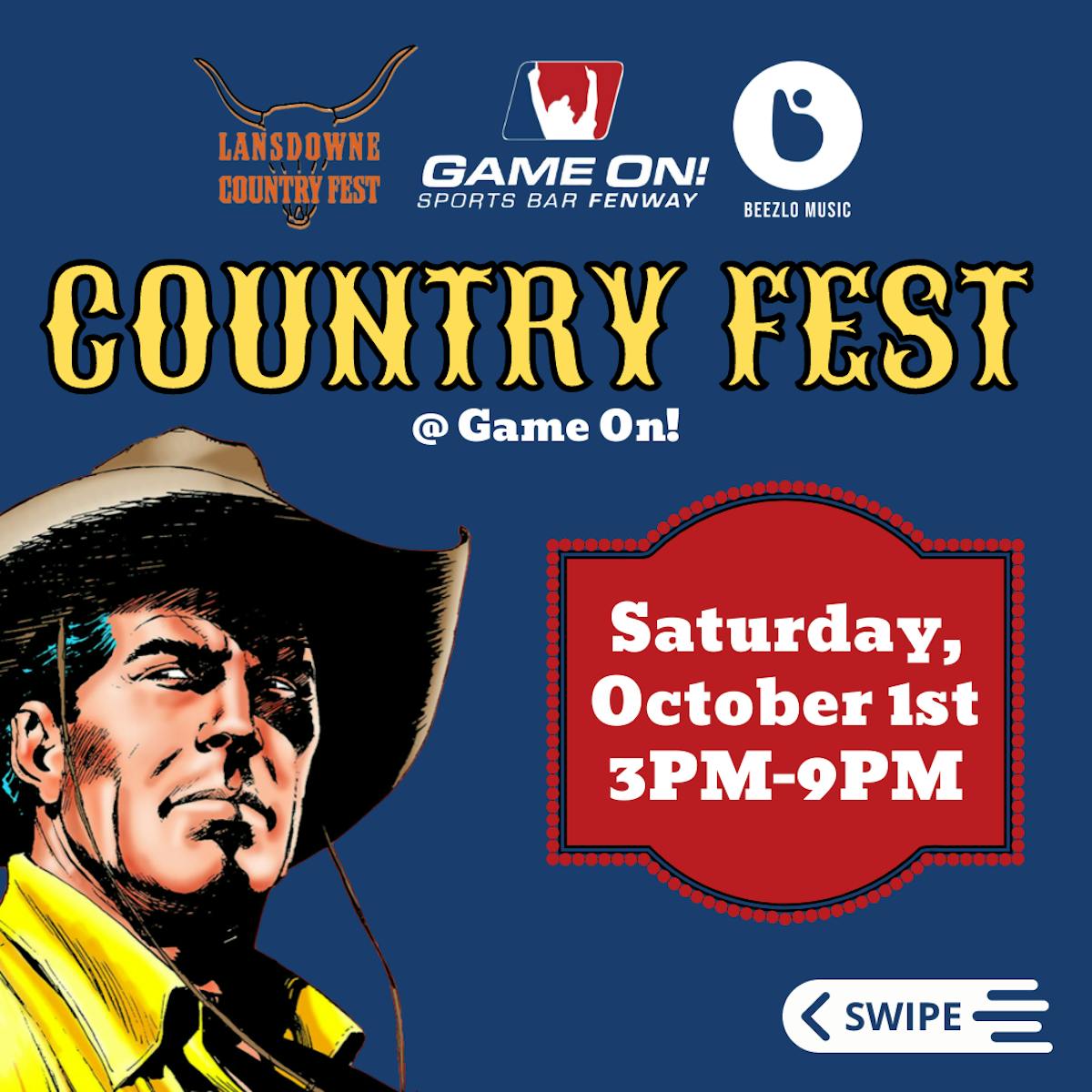 Get your boots on because Game On will host Fenway's County Fest this October. Mark your calendar and prepare for a day full of country music, line dancing, and delicious food! Game On is participating with five other bars to bring this Country Fest to life. Join us this October to see your favorite local country artist perform, with some unique acts coming to Fenway from Nashville!
Who
Game On is featuring three local country artists during this fall crawl! Our first New England singer and songwriter is April Cushman from New Hampshire! April's passion and love for country music started at age five. She has an impressive track record and has appeared at shows for our favorite country stars, such as Lady A, Darius Rucker, and Sugarland. We are thrilled to host April and see what she plans to perform!
Our next artist is a Boston native and up-and-coming pop country artist. Chris Ruediger grew up listening to all genres of music but fell in love with country music, where he began to play at local bars. Since his early years, Chris has been featured on New England radio stations and even journeyed to Nashville to record his own style of modern pop country music. Continue reading to meet our final Country artist!
Our final country artist to perform at Game On is Whitney Doucet, an American Country singer, and songwriter. Whitney and The Moonshine Band will be our last performance of the night, leaving us wanting more. She has dang with country music superstar Keith Urban and continues to dedicate herself to growing her audience. Whitney is also no stranger to Boston as she has previously sung the national anthem for our professional sporting events such as the Boston Red Sox, New England Patriots, and Boston Bruins.
Be sure to check out when these artists are performing, and come early to ensure you have the best seats in the house!
When
On October 1st, Game On will host the following country artists to perform live to all of Fenway! Starting us off is April Cushman, who will be performing at 3 pm. Following April, Chris Ruediger will be performing from 4:30-6 pm. Lastly, Whitney Doucet and The Moonshine Band will complete our night performing from 7-9 pm. Don't miss out on these once-in-a-lifetime performances at our very own Game On!
Where
Our featured country artists will perform at Game On from 3-9 pm on October 1st. Game on is located on Lansdowne Street in Fenway and will operate during its regular hours throughout the day.
Reserve Your Tickets Today
If you are looking to join in on Fenway's Best Country Fest, reserve your ticket today! Once you have purchased your ticket, you will have access to the following bars to enjoy an array of country music. Each ticket will receive access to all the included bars before capacity and a T-shirt as a gift to you. For more information on the Lansdowne Country Fest, contact us today at (617) 351-7001 or email us at info@gameonboston.com. We look forward to hosting you this October!