College Football Game Watches with Boston College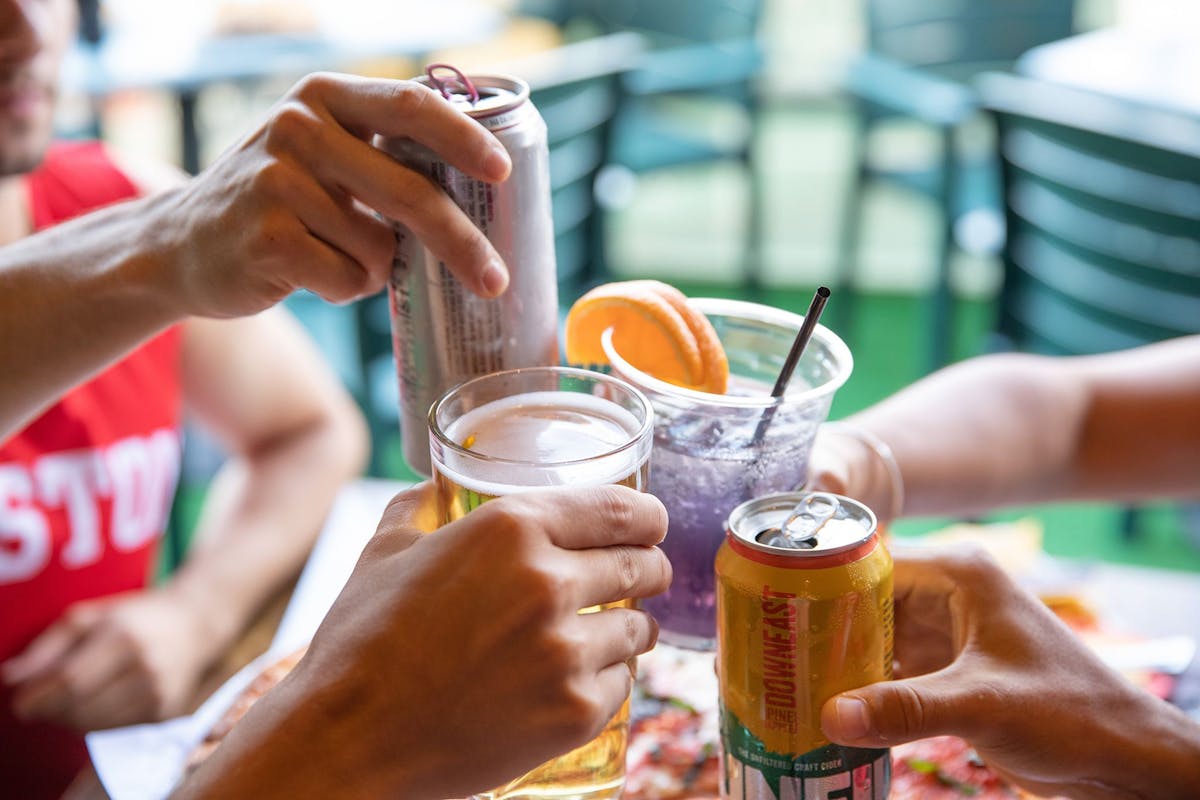 While the Boston College Football Team is playing away, come show your support and spirit by coming to our viewing party! Each time this team plays an away game, Game On is happy to host fellow BC Football fans, students, parents, and alumni by putting the game on the big screens! For more information about these events, keep reading below.
Game On's Set Up
We have an upstairs and downstairs at Game On. This floorplan is designed to allow those who are looking for bar seating to enjoy the games a chance to do so upstairs, and those looking for more of a nightlife atmosphere downstairs. Whether you're situated upstairs or downstairs, BC away games will be played on all of our TVs for your enjoyment. The drink menus may appear slightly different depending on where you're located as well, so be sure to read more about that below!
Hours, Location, and Menu
Hours of Operation
Listed below are the days and times you can expect to be at Game On! Unless otherwise noted, these are our standard hours of operation.
Monday - Wednesday
11:30am - 11:00pm
Thursday
11:30am -1am
Friday - Saturday
11:30am -2:00am
Sunday
11:30am - 8:00pm
Where We Are Located
You can find our bar located on Lansdowne Street, the heart of Fenway. Our exact location is:
82 Lansdowne Street, Boston, MA 02215
Upstairs vs. Downstairs Beer Lists
This is a tricky beer list that you should take note of before coming to Game On! Our downstairs beer buckets differ from the upstairs, as we suggest you incorporate a round of Fireball or Dr. McGillicuddys for $8 each. Meanwhile, our upstairs beer list contains drafts that the downstairs doesn't offer, such as Cisco Pumpkin Drumkin, Downeast Cider, Truly Hard Seltzer-Wildberry Sam Adams Brick Red, Jack's Abby Blood Orange Wheat, Fiddlehead Ipa, Yuengling Lager, Guinness, & Night Shift Whirlpool.
Other Happenings This Month at Game On
On Friday October 7th, we are hosting our first ever Glow Party! At this event, we will be giving away hundreds of glow sticks and light up glasses. On Wednesday October 19th, join us and El Jimador for a night consisting of painting, fun fall flavored cocktails, tasty appetizers, and other fun activities and giveaways! Lastly, be sure to join us on Saturday October 29th for Crawl-O-Ween's 7th annual bar crawl! We are a part of this exclusive event that you should buy tickets for while there's still a supply left. Be sure to stay up to date with our latest happenings on our website!
Contact Our Team Today!
For more information on how you can get in touch with us in regards to the next Boston College Football away game watch party, be sure to speak with a team member here at Game On! We are happy to answer any questions you may have in regards to this event or other ongoing happenings this month. To reach us, please call (617) 351-7001 today.